I had the privilege of visiting a museum this summer. No, not in person, but a virtual one! I never 'visited' a museum virtually before, but I enjoyed it!
Not only are you able to learn more about art and history, but you can also spend productive time doing this. No travel needed!
I chose the Van Gogh Museum located in Amsterdam, Netherlands. This museum has the most extensive collection of pieces by Van Gogh, totaling over two hundred paintings, five hundred drawings, and more than seven hundred and fifty letters. Even though a screen, it felt as if I was physically there. The outside is partly glass and stone in a varied cylinder shape. Upon 'stepping in', the exhibits are divided by glass encasings and walls.
Vincent Van Gogh's paintings took various forms as a post-impressionist. The techniques and strokes add tone and rhetoric to the paintings through the movement and expression of tones. The paintings varied in the subject. Some focused on landscapes, while others were specific pieces of nature or elements, faces, or even self-portraits. He is one of the most well-known artists in Western art. While he had psychological and cognitive events that impacted his mental health, he used the arts as an outlet. In each piece, there is something to learn about him.
This is the book I received as a gift from my art teacher and I love it!
---
Three works that I enjoyed, even though they were less popularized, and thought represented the whole exhibit are Seascape near Les Saintes-Maries-de-la-Mer, A Pair of Leather Clogs, and Head of a Prostitute. These pieces were painted in the 1880s and I believe they represent Van Gogh.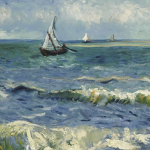 Seascape near Les Saintes-Maries-de-la-Mer was painted and depicted of a scene in France. By the post-impressionistic strokes, the tones of the colors vary. The water includes reflections from the sky and sand. The lights are against the darks to make the water show movement. The focal points are the boats. The strokes differ by the sand and sky to notate the movement of clouds in the circular motion. The piece varies with primary colors. I imagined this to be the place where Van Gogh felt free psychological disorders.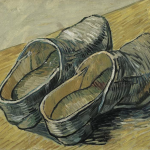 A Pair of Leather Clogs, painted three months earlier in France, shows shoes on a lighter background. Clogs are commonly known as footwear native to the Netherlands, his home country. These strokes differ from those in Seascape near Les Saintes-Maries-de-la-Mer by the direction. They are uniformed and organized in the direction of light rather than movement. Van Gogh painted this piece while in a psychiatric clinic. As his fame and recognition rose, Van Gogh's mental and psychological health declined (Novitsky 16). By the end of that year, he cut his ear and entered an asylum.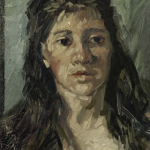 The Head of a Prostitute, painted before the previous pieces in Belgium, depicts a female staring with an empty and expressionless emotion and character. Her hair is out which, during the nineteenth century, was a sign of poor morals and values. The roughness reflects her life.
I gravitated towards this museum because I chose post-impressionism as my art concentration for AP. In all of Van Gogh's paintings, he used his knowledge of tone and texture in this post-impressionistic style to influence future artists during his time. The strokes added a directional movement and liveliness to the artwork and subject that would have been flat. His impression of the ocean, clogs, and a prostitute made these ordinary snapshots a focal point. These harsh and soft strokes came from his family and life's problems. His pieces 'speak,' in a sense, to viewers. Seeing the various pieces throughout his lifetime and the underlying meanings brought a sense of passion.